PERU'S INCA TRAILS. HIKING AND BIKING -CICERONE
TREKKING & MOUNTAIN BIKING IN THE SACRED VALLEY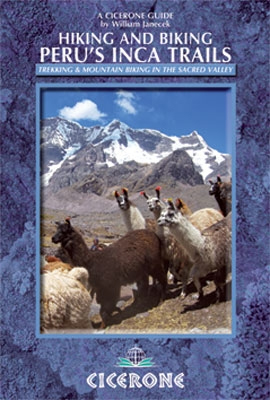 Ficha Técnica

Editorial:

Año de edición:

2013

Materia

ISBN:

978-1-85284-631-2

EAN:

9781852846312

Páginas:

284

Disponibilidad:

En stock

Idioma:

ANGLES
The eastern slope of the Peruvian Andes is one of the most dramatic and diverse places on the planet, dropping from over 6000m (20,000ft) to just 200m above sea level. This dramatic drop in elevation produces a wide range of constantly changing climactic and vegetative zones – it is often possible to hike from the base of a glacier down to the jungle in just a day or two. Combined with the countless Inca sites and ubiquitous Inca roads, this makes the Sacred Valley one of the best trekking and mountain biking destinations in the world.

Machu Picchu is well known as one of the Seven Wonders of the World, and the Inca Trail trek that leads there is nearly as famous. What is less known, however, is the vast choice of other epic adventure trips that exist in the region – treks through soaring Andean glaciers and Incan ruins, bike rides through stunning alpine and jungle scenery. Nearly every route in this book uses an Inca road or visits an Inca ruin – and most do both. The majority of the Inca roads can also be biked as well as hiked, so there is plenty of scope for both activities.
Guidebook to hiking and biking Inca trails in the Sacred Valley of Peru, including 7 routes to Machu Picchu. A range of mountain bike and trekking routes: half-day, full-day and multi-day. All routes graded for difficulty, and the guidebook includes many previously unpublished routes away from the tourist trails.
Otros libros de GUIAS EXCURSIONISMO/TREKKING Ver todos