USA'S BEST TRIP -LONELY PLANET
52 AMAZING ROAD TRIPS
BENSON, SARA ; MCCARTHY, CAROLYN ; BALFOUR, AMY C. ; VORHEES, MARA ; ZIMMERMAN, KARLA ; GROSBERG, MI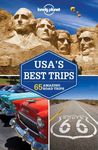 Ficha Técnica

Editorial:

Año de edición:

2014

Materia

ISBN:

978-1-74220-063-7

EAN:

9781742200637

Páginas:

678

Disponibilidad:

Sin stock, disponible en 3/4 semanas

Colección:

TRIPS (ROAD TRIPS/BEST TRIPS)

Idioma:

ANGLES
We?ve selected 52 amazing road trips through the USA, from two-day escapes to week-long adventures, and packed them full of expert advice and inspirational suggestions. Whether you want to explore the Pacific Coast Highways, Route 66 or the Rocky Mountains, we?ve got the trip for you.
Get inspired with highlights, expert recommendations and gorgeous imagesDiscover even more with detours, walking routes and ways to link your road tripsGet around easily with colour maps, detailed directions and practical tipsPLUS planning advice to help you pick the right route
Coverage includes: Planning chapters, New York & the Mid-Atlantic Trips, New England Trips, Florida & the South Trips, Great Lakes Trips, Great Plains Trips, Rocky Mountains Trips, Southwest Trips, California Trips, Pacific Northwest Trips and Road Trip Essentials.