TRACING MARCO POLO'S JOURNEY
THE SILK ROUTE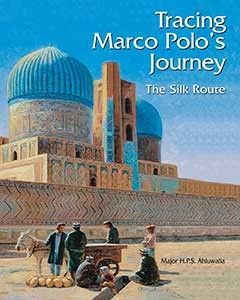 Ficha Técnica

Editorial:

Año de edición:

2011

Materia

ISBN:

978-81-89738-84-6

EAN:

9788189738846

Páginas:

236

Encuadernación:

ILUSTR. TAPA DURA

Idioma:

ANGLES
A famous mountaineer and an expert on the Himalayan region, Major H.P.S. Ahluwalia was conferred the fellowship of the Royal Geographical Society for his contribution to environmental studies. He has been climbing ever since he was a child and scaled Mount Everest on 29 May 1965. A recipient of the Padma Bhushan, Padma Shri and Arjuna Award, he was also presented the Condor-de-Oro by the Government of Argentina. Recently he received the Tenzing Norgay National Adventure Award for Lifetime Achievement from the President of India.
Major Ahluwalia has been the President of the Indian Mountaineering Foundation and the Chairman of the Rehabilitation Council of India. He is a member of the Executive Council of the Himalayan Mountaineering Institute, Darjeeling and the Indian Mountaineering Foundation. He was also the President of the Delhi Mountaineering Association and a member of the Delhi Council of Sports as well as a member of the Governing Council of the Sports Authority of India. He is a trustee of the Indira Gandhi Memorial Trust and the Chairman of the Indian Spinal Injuries Centre, New Delhi, a comprehensive rehabilitation centre in the voluntary sector. Major Ahluwalia is the author of thirteen books, including his autobiography Higher Than Everest, which ran into thirteen editions and was translated into a number of languages.
The book takes the reader on a fascinating adventure, following the author and his team members through the exciting expedition of 1994. It is a first-hand account of a two month trip marked with challenges and fun. The accompanying photographs bring the story alive.
Otros libros de NARRATIVA-RELATOS DE VIAJES Ver todos