SOUTH AFRICA, LESOTHO AND SWAZILAND -ROUGH GUIDE

AA.VV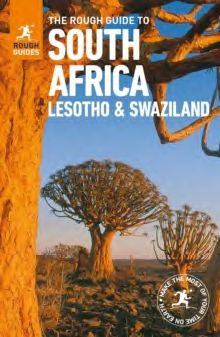 Ficha Técnica

Editorial:

Año de edición:

2018

Materia

ISBN:

978-0-241-30630-7

EAN:

9780241306307

Páginas:

685

Colección:

ROUGH GUIDE, THE

Idioma:

ANGLES
Discover South Africa, Lesotho and Swaziland with themost incisive and entertaining guidebook on the market. Whether you plan tosafari in Kruger National Park, savour the fine wines of the Western Cape orexplore the village where Nelson Mandela grew up, The Rough Guide to South Africa, Lesotho & Swaziland will showyou ideal places to sleep, eat, drink and shop along the way.

Inside The Rough Guide to South Africa,Lesotho & Swaziland

– Independent, trusted reviewswritten in Rough Guides' trademark blend of humour, honesty and insight,to help you get the most out of your visit, with options to suit everybudget.

– Full-colour maps throughout -navigate Johannesburg's downtown shopping streets or the beachfrontof Port Elizabeth without needing to get online.

– Detailed regional coverage -whether off the beaten track or in more mainstream tourist destinations,this travel guide has in-depth practical advice for every step of the way.Areas covered include: Cape Town and the Cape Peninsula; The Western Cape;The Northern Cape; The Eastern Cape; the Garden Route; KwaZulu-Natal; Durban;Free State; Gauteng; Johannesburg; North West Province; Mpumalanga; Limpopo;Lesotho; Swaziland. Attractions include: Table Mountain; RobbenIsland; Kirstenbosch National Botanical Garden; Stellenbosch; the WildCoast; Hluhluwe-Imfolozi Park; the Drakensberg mountains; Joburg'sApartheid Museum; Blyde River Canyon; Kruger National Park.

– Stunning, inspirational images Itineraries

– carefully plannedroutes to help you organize your trip.

– Basics – essential pre-departurepractical information including getting there, local transport, accommodation, foodand drink, health, the media, festivals, sports and outdoor activities, crimeand personal safety, and more.

– Background information – a Contexts chapter devoted to history, music and books, plus a handy languagesection and glossary. Make the Most of Your Time on Earth with theRough Guide to South Africa, Lesotho & Swaziland.