JORDAN -INSIGHT GUIDES

AA.VV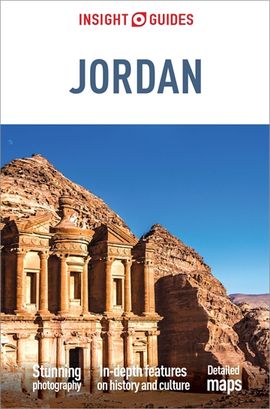 Ficha Técnica

Editorial:

Año de edición:

2013

Materia

ISBN:

978-1-78671-396-4

EAN:

9781786713964

Páginas:

331

Colección:

INSIGHT GUIDES

Idioma:

ANGLES
Sin stock, consultar disponibilidad
Comprar
Insight Guide Jordan is a comprehensive full-colour travel guide to the culture, history, people and sights in this peaceful and prosperous Middle Eastern country. Our inspirational Best Of section selects Jordan's top attractions, from the iconic rose-red city of Petra and the desert landscape of Wadi Rum, associated with Lawrence of Arabia, to the Dead Sea, Roman ruins, desert castles, Biblical sites and first-class diving in the Red Sea.

Our unrivalled coverage of history, landscape and culture provides an essential introduction to Jordan's heritage and contemporary life, to complement the in-depth look at crafts, outdoor activities and Jordanians' love affair with the Arabian horse. The informative text, written by regional experts, is a pleasure to read and accompanied by stunning photography.

Lavish, magazine-style features offer an insight into Jordanian architecture, the Bedouin, café society in the capital, Amman, and the Red Sea.

All major sights are cross-referenced with the maps, and the travel tips section provides a wealth of practical information on how to plan your trip, as well as carefully selected hotel and restaurant listings.