INSIDER BROOKLYN
A CURATED GUIDE TO NEW YORK CITY'S MOST STYLISH BOROUGH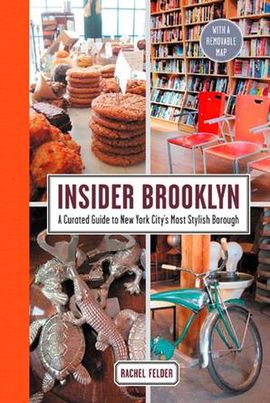 Ficha Técnica

Editorial:

Año de edición:

2016

Materia

ISBN:

978-0-06-239743-0

EAN:

9780062397430

Páginas:

285

Encuadernación:

ILUSTR. TAPA DURA

Idioma:

ANGLES
Sin stock, consultar disponibilidad
Comprar
In this chic guide, style and shopping expert Rachel Felder reveals her insider's choice of boutiques, shopping routes, restaurants, cafes, and bars, highlighting more than 200 favorite destinations and shops throughout Brooklyn, New York City's "It" borough. With colorful photographs, maps, and travel advice, this volume is an essential reference for style-oriented travelers and New Yorkers alike.
The fourth most popular travel destination in the world, New York City draws millions of visitors annually.. At the centre of this white-hot destination is none other than the borough of Brooklynthe mecca of twenty-first century cool and style. Now, native New Yorker Rachel Felder, a widely published journalist specializing in fashion, beauty, travel, and trends, has created a portable, beautifully designed, personally curated anthology that brings this fashionable borough into focus as never before, featuring not-to-be-missed highlights and covering everythingfrom food to furniture to fashionit has to offer.

She begins with valuable travel advice, including a precisely selected list of hotels, cafes, bars, bakeries, festivals, salons, and markets. She provides a sample itinerary for trip planning, as well as a comprehensive list of Brooklyn's main attractionsincluding its major landmarks, parks and gardens, museums and zoos, noteworthy restaurants, bars and breweries, and artisanal food shops. She then takes you into individual neighborhoods, exploring each thoroughly by shop type and goods, providing the complete address, phone number, and website for each.

Bursting with invaluable insights, helpful tips, and must-see destinations, Insider Brooklyn is an indispensable resource and a visual feast for tourists and business visitors headed to the city, localsboth Brooklynites and other New Yorkersand armchair travelers who simply want to dream about and shop it from home.